She is a charismatic and fruitful singer-composer whose music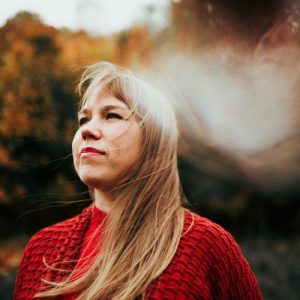 takes you on a voyage through forests, cities, and life itself.
Her concerts invite you to sing along as they mirror the rhythms of changing seasons while staying pure and personal. A versatile musician has a variety of instruments and his personal voice is both gentle and powerful. Mari's memorable melodies and spatial soundscapes are universal in terms of themes and are based on her roots in Võrumaa. She's music is like a refuge from which she draws peace and security and offers it to others.
She has performed with her concerts in most European countries, also in New York and she's been in Japan six times on a tour. Her music has been noticed at music accolades and by critics. In 2018 The Guardian chose Kalkun's soloalbum "Ilmamõtsan"  into the top ten of the best world music albums of the year. The album "Tii ilo" recorded by the international ensemble Mari Kalkun & Runorun was nominated for the title of ethno music album in 2015 at both Estonian and Finnish music awards. In 2018, she was recognized with the Tallinn Music Week Artist Award, and in 2019, Kalkun won the annual award of the Estonian Cultural Endowment's sound art endowment, which is the most important recognition in Estonia in the field of composition.
"The focus of Kalkun's work is her song – joy alternates with crying, but his singing is always natural, balanced, melodic. Its poeticism is obvious without translation. Magical creation. " – Neil Spencer (The Guardian)
Home page: https://www.marikalkun.com/
Youtube: https://www.youtube.com/channel/UCcSsMU1PqsFwebv1_FZSy_w
Facebook: https://www.facebook.com/MariKalkunMusic