NEDSAJA KÜLA BÄND brings real dance power like they do it in Setomaa.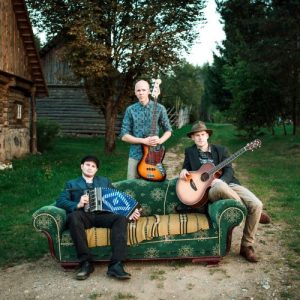 Nedsaja Küla Bänd is a musical ensemble from the small village in the forest and is made up of 3 men with different backgrounds. The punt, which has been playing together since 2013, has followed its own path and gradually mixed an interesting sound compote with different tastes for both young and old. Their concert counterposes calm and touching moments as well with crazy energy filled with true Seto spirit.
The band consists of Toomas Valk (karmoška, vocals), Paul Hunt (acoustic guitar, vocals), Iisak Sulev Andreller (bass guitar, vocals).
Home page: https://nkb.ee/
Youtube: https://www.youtube.com/channel/UChtkCepGNEu16K7bCP5cwFw
Spotify: https://open.spotify.com/artist/6nAnjsipcAZEWti4DRuCV7